DialogueSongs are the musical work of musician/composer/educator Eric Haltmeier. The idea for DialogueSongs was initially posed by Don Proffit (Northeast Steward for the World Café) who, having already found ways of incorporating visual/graphic arts as a means of documenting important conversation processes, longed to incorporate music and sounds into the processes of dialogue and deliberation (D&D). Don approached Eric about becoming involved in the World Café process, asking him to develop emergent original musical compositions that would serve to reflectively represent the dialogue that would take place throughout different workshop settings.

When creating DialogueSongs, Eric begins by collecting sounds, musical ideas, and other audio material in advance of a workshop that represent the ideals which will be focused upon in workshop conversation. Prepared with only a conceptual sketch in mind, Eric then becomes an active participant in a workshop or conference, striving to collect musical source material throughout the D&D process. These sound samples have included audio clips of workshop participants stating important points, ambient sounds during the workshop, and audio clips of workshop facilitators. The sound samples are then treated as 'musical material' and begin to become a part of a new and original musical composition. Eric also improvises music at various stages of the D&D process in an attempt to capture and react to the spirit and energy of a workshop in sound. The combination of sounds collected in advance of and during a D&D workshop, together with original accompanying music, are combined into a musical composition that is performed by Eric in real-time at the close of a workshop, allowing participants to reflect upon, revisit, and connect deeply with the process in which they just participated. Eric performs the new musical compositions using keyboards, woodwind instruments, and computer software that allows the 'collected sounds' to be 'triggered' in live performance. As such, the people involved with the D&D process will actually become a living part of the music itself. Eric has also created these compositions in conjunction with graphic facilitators and video artists who develop visual art that is connected to and inspired by the music and vice versa.
No two DialogueSongs are ever be the same. Just as every important conversation that takes place between groups of people develops original ideas, creative thinking, and new perspectives, each Dialogue Song hopes to uniquely reflect the character, people, and ideas that become present in those conversations.

Dialogue Songs have been created/presented for organizations including:
National Coalition for Dialogue & Deliberation (NCDD)
Young Audiences of New Jersey
Charles E. Smith Jewish Day School, Rockville, MD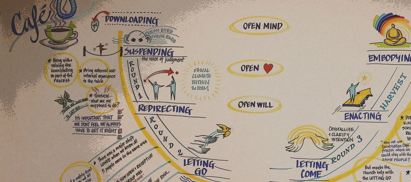 "2008 NCDD Conference Concerto"
In 2008, Eric was invited to the National Coalition for Dialogue and Deliberation (NCDD) National Conference in Austin, TX in order to create a "Dialogue Song" that served to document the conference as a whole. Ambient sounds, spoken word clips from conference attendees, and musical fragments were collected digitally throughout the conference. These clips were then set to a backdrop of other music and performed live using saxophone, laptop, and MIDI controllers at the concluding session of the conference.